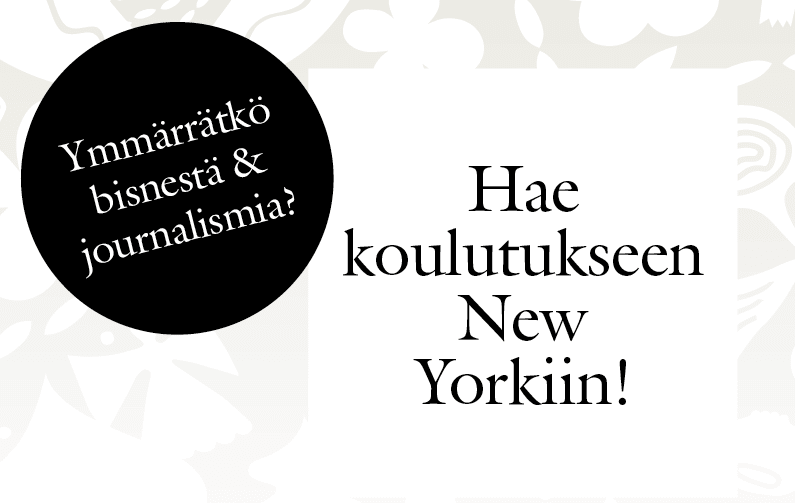 Helsingin Sanomain Säätiön koulutusohjelma laajenee. Hae 20.3. mennessä vuoden kestävään etäkoulutukseen:
Executive Program in News Innovation and Leadership
Craig Newmark Graduate School of Journalism, City University of New York
Syksyllä 2023 alkavaan koulutukseen sisältyy kolme lähijaksoa New Yorkissa.
Koulutus on tarkoitettu uutisorganisaatioissa journalismin ja kaupallisen puolen risteyskohdassa toimiville nykyisille ja tuleville muutosjohtajille. Koulutuksessa käsitellään mm. uutisbisneksen
ja -organisaatioiden johtamismalleja, innovaatiokulttuuria, strategiaa, ansaintamalleja ja tuoteajattelua.
Hakijalta edellytetään muutaman vuoden kokemusta johtotehtävistä.
Stipendiapurahan suuruus:
Kurssimaksu $ 27 000
Matkat ja majoitus lähiopetusjaksoihin New Yorkiin (kolme kertaa) € 4 500
Haku on kaksivaiheinen. Ensimmäisen vaiheen hakemukset tulee jättää säätiön apurahajärjestelmän kautta viimeistään maanantaina 20.3.2023 klo 9.00. Säätiö suosittelee yliopistolle yhtä hakijaa. Lopullisen valinnan tekee yliopisto omien kriteereidensä mukaisesti.
Lisätietoa koulutuksesta ja toisen vaiheen hakuprosessista